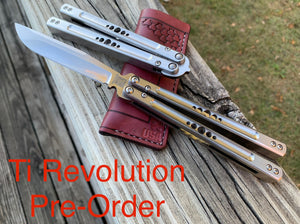 This is a pre-order for a TI Revolution Balisong.  This is a non-refundable pre-order (unless I am unable to manufacture the knife for you.) This cost will be reduced from the final total of the knife. 
You can pre-order 1 of each knife, but not more than that. I will cancel any subsequent orders.
The final price for a standard Ti Revolution Balisong (no mods) will be $1200. If you do not elect to add any mods, your final payment when the knife is finished will be $1000 ($1200 - $200 preorder) + shipping/insurance (+tax if you live in KS.) Will come with a hand-tooled leather sleeve.
After your purchase is made, I will email you with a list of available options for mods.  If you decide to choose any of the mods, you will need to fill out a form and I will ask for a detailed description of what you would like done to the knife. I'll generate a quote and email it to you to go over and make any changes.
When all is agreed on, I will provide to you a purchase order with any mods and prices listed and a final total including shipping/tax (if applicable)/etc.
You will receive an email when the production of your knife begins and when it is nearing completion.  I will provide pictures of your knife along with an invoice and payment options.  
Once payment is received, I will ship the knife out in 2 business days and will email you tracking number/etc.
You can follow along with the builds and get more info on Instagram: @Palethius